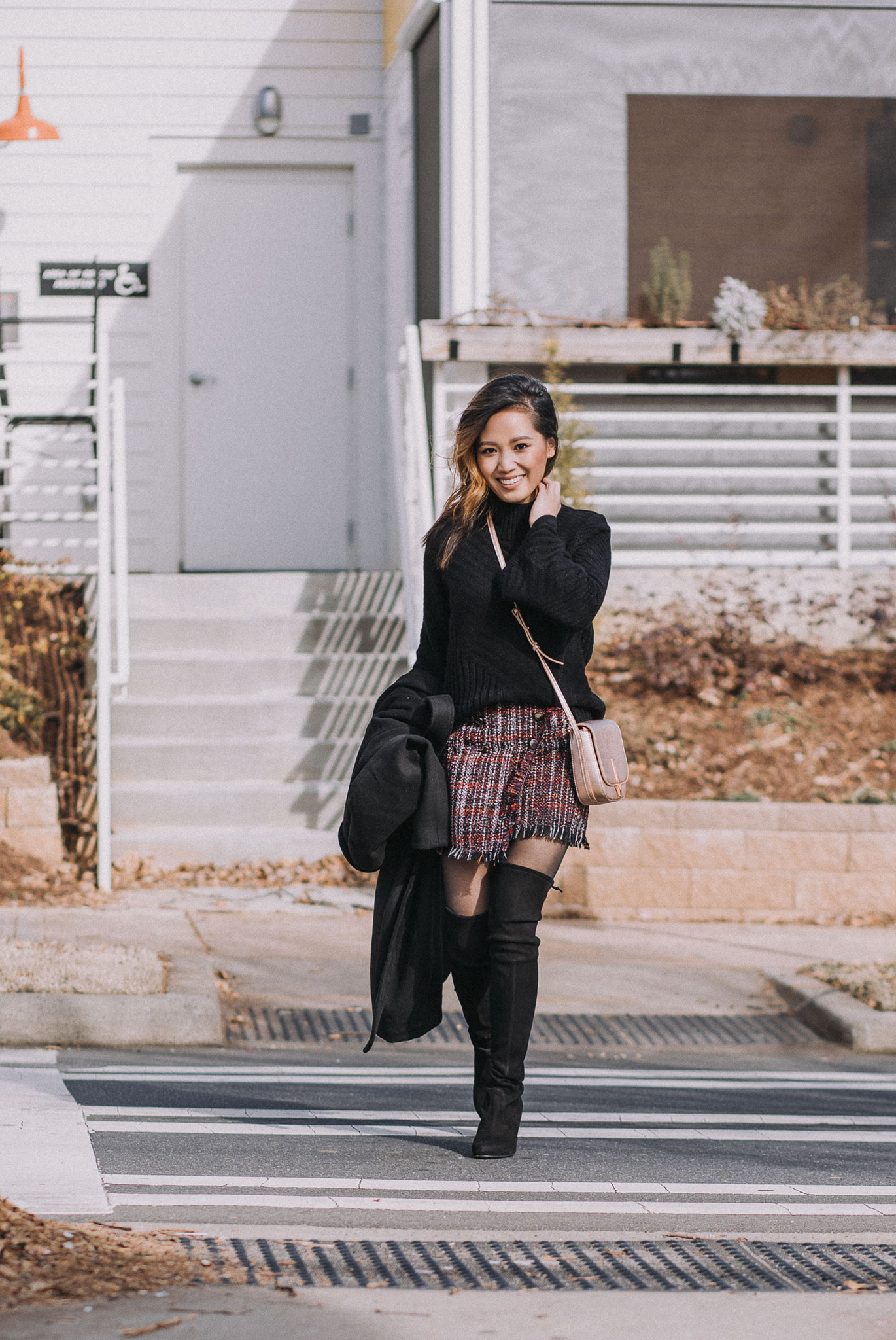 Caveat: If you've been here before then you already know that my monologues re: blogging serve no portentous, sugar-coated garbage for the struggling. Rather, it's a vehement, unbiased, and often times incoherent opinion that exposes the idiosyncrasies of a remarkably exclusive industry. I'm inclined to feel that I'm qualified for this because, 1. I'm not really a blogger, and 2. I work with very high-profile bloggers. If you take any offense to what you're about to read, then as always, apologies in advance (not for my opinion but for your offense). Hope you enjoy my guide to blogging in 2018.
Blogging has been around on a widespread basis for about 10 years now – and you've just decided that you wanna be a blogger… Now what?
DON'T. Forgone and archived are the days of registering for a WordPress or Blogger account, purchasing a domain, snapping a few photos, and slapping them on the web with terse, banal rambles. It goes far beyond that. Don't believe me? Google "how to become a fashion blogger" and watch the aggressive results flood your screen followed by the pervasive page numbers that see no end. If you think your answer lies deep in the dossiers, you'll more than likely end up disappointed. So, don't start a "blog" in 2018. Ignore the raucous habitat and follow suit.
Rule #1 – Self-creation.
First and foremost, create a space for yourself – and do so thoughtfully, carefully, and intently. I'm reading The Law of Attraction right now, and at the most basic level, it says:
"That which is like unto itself, is drawn. That which I give thought to and that which I believe or expect–is. I am that which I am, and I am willing to allow all others to be that which they are."
In tandem with that snippet, I believe that if you really create what you want for yourself whilst disregarding all else, you'll attract the kind of quality people you need to attract. Allow the creative juices you've harbored all these years to flow and alter it into a tangible product for yourself. Build the discipline to conceive visually stimulating substance weekly, and watch the magic unfold. At the same time, know that in 2018, your visual delivery game needs to be tiptop strong. However, I believe that when you're honest with your work and create that which you honestly want to create, true creativity becomes a super natural process.
Redundant and hard to read, I know. And it might sound like feel-good crap but really soak in that morsel on a deeper level.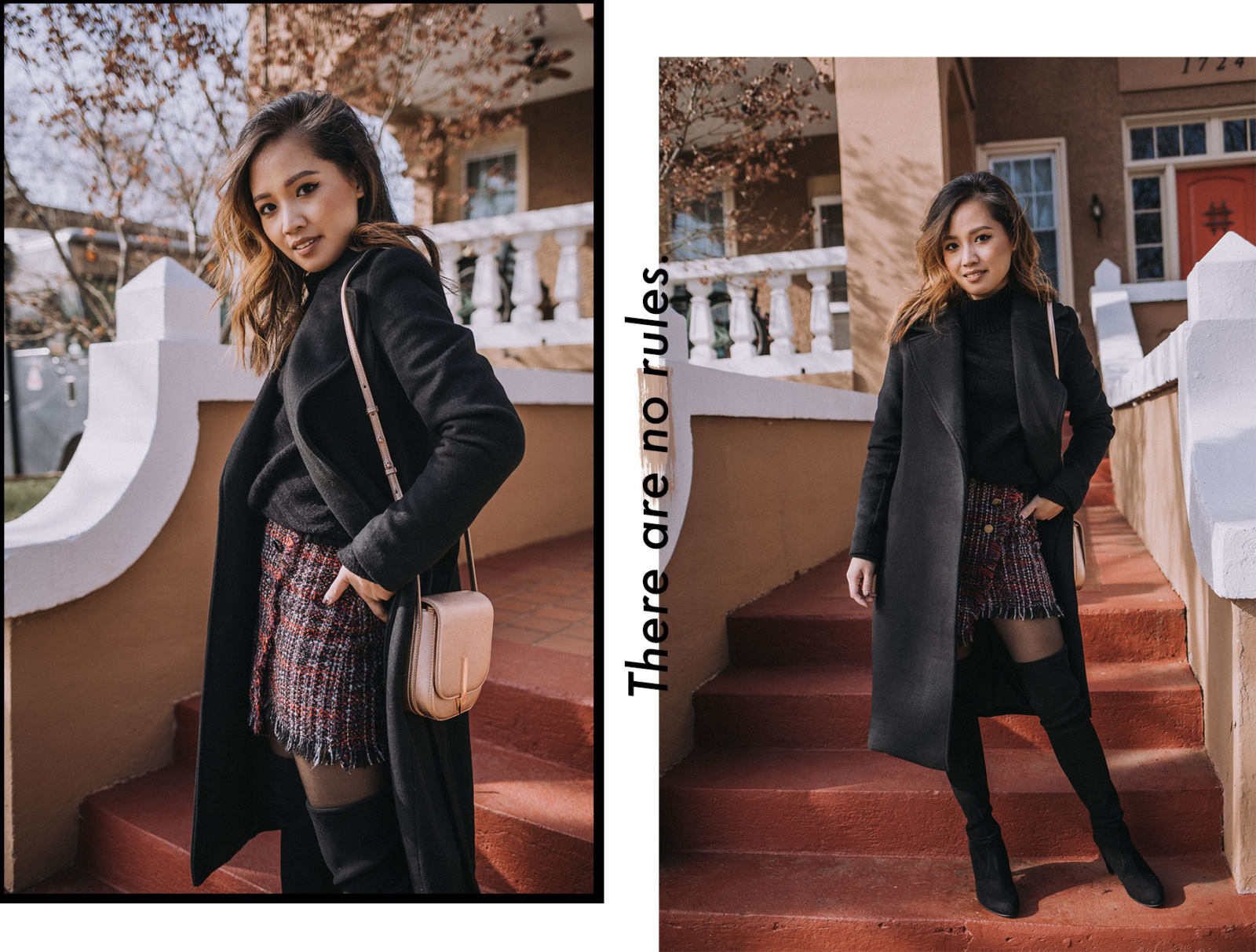 Rule #2 – Don't be phased by algorithms and numbers.
No surprises but I can say earnestly say that I've never been on the numbers game. I tend to like a smaller crowd anyway… But what I mean is that when you become too focused on the numbers, you instantly lose sight of Rule #1: Self-creation. Don't let the small sums of a varnished platform instill plummeting thoughts and riled emotions into your head. Especially when you – yourself, I'm sure – are jaded by the same-shit-different-day content inundating our feeds (i.e. avocado toast, breakfast in bed, flowers on everything, and #selfies). Don't be silly to let the nuances of an algorithm ruin your spark.
Rule #3 – A community is GOLD.
Maybe you sensed a little sarcasm in my other points, but I really mean this one. If you only take away one thing from my post today, make sure it's this one. Your true guide to blogging in 2018 is all about forming a community. The best bloggers, most successful influencers, and highest converters all have this going for them (even if they're not the most creative, the prettiest, the best writer, or the most business-savvy). A blog starting or revamping in 2018 needs to be dynamic, engaging, and valuable. Your relationship with E-V-E-R-Y reader is your best asset. Spark conversation, answer questions that drive dialogue, and don't just make it about yourself. It's also about them – they who share the same values, experiences, and sensibilities as you. Attract those who are like you!
If you care about what I write, I care about you. And if you don't, I'm perfectly fine with it! I'm noticing more email sign-ups lately, which have me completely flummoxed (in a good way of course). So if those subscriptions keep coming in, I'll commit to a regular newsletter chock-full o industry truths and insights. LMK by signing up here.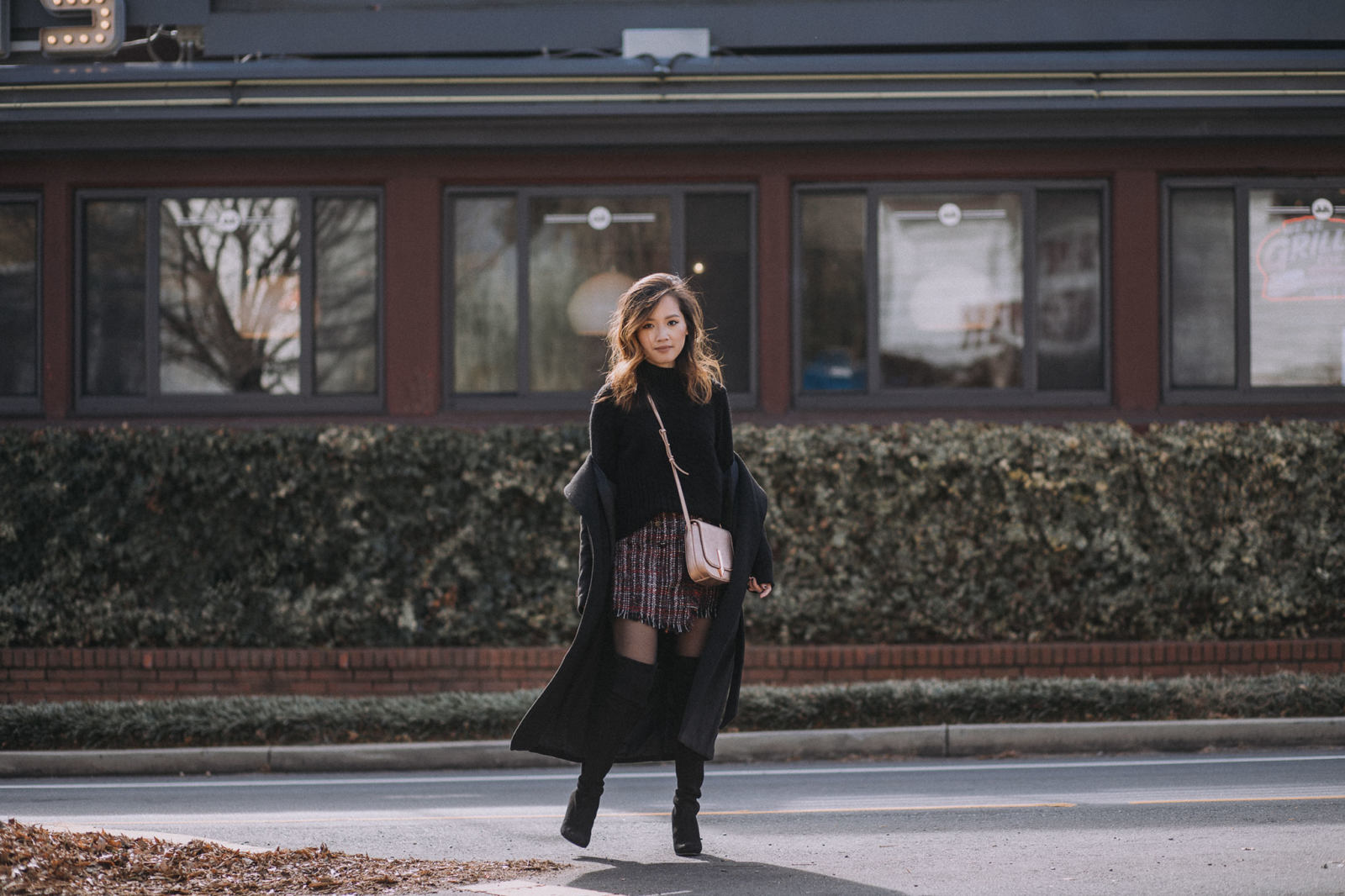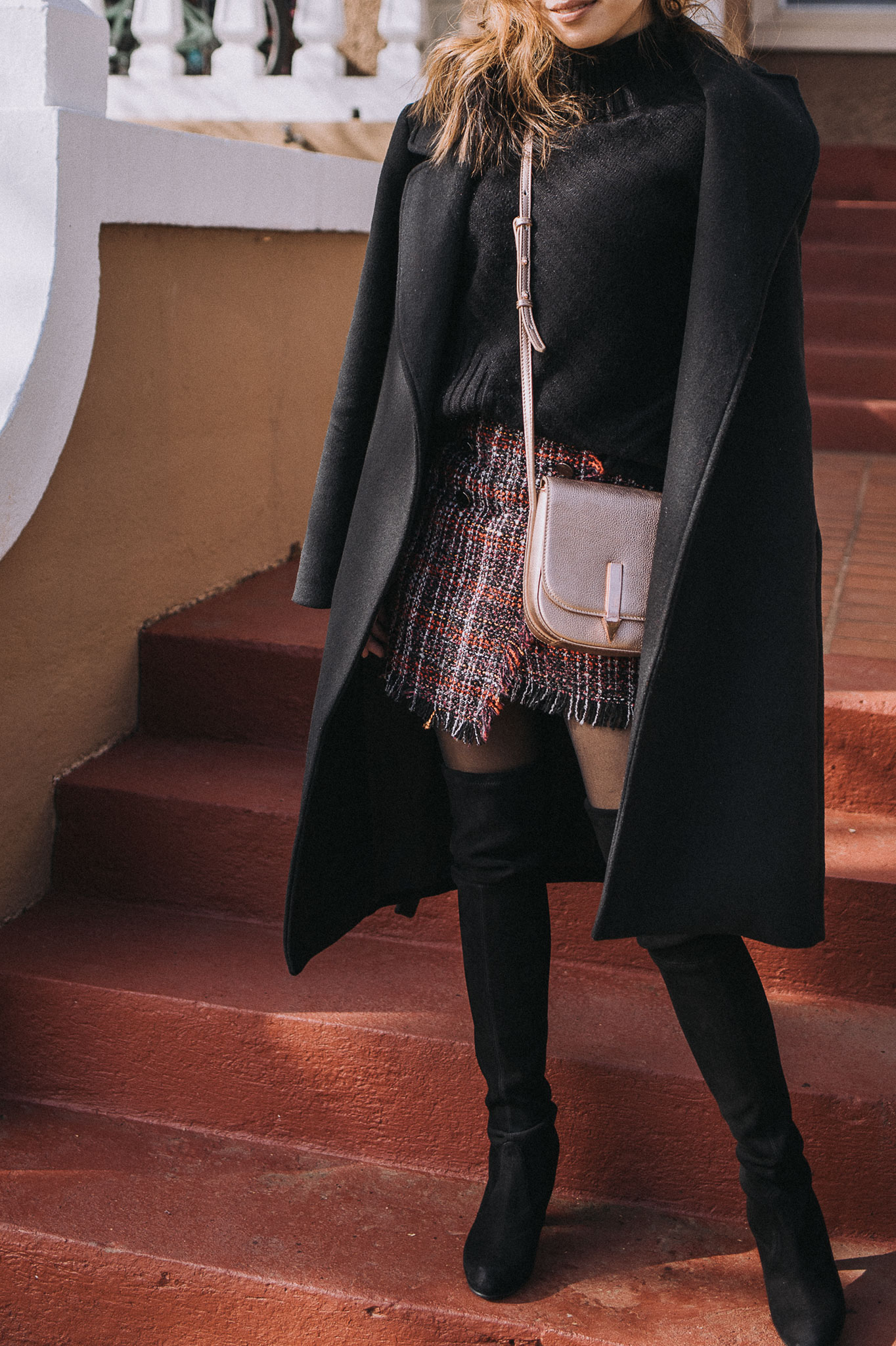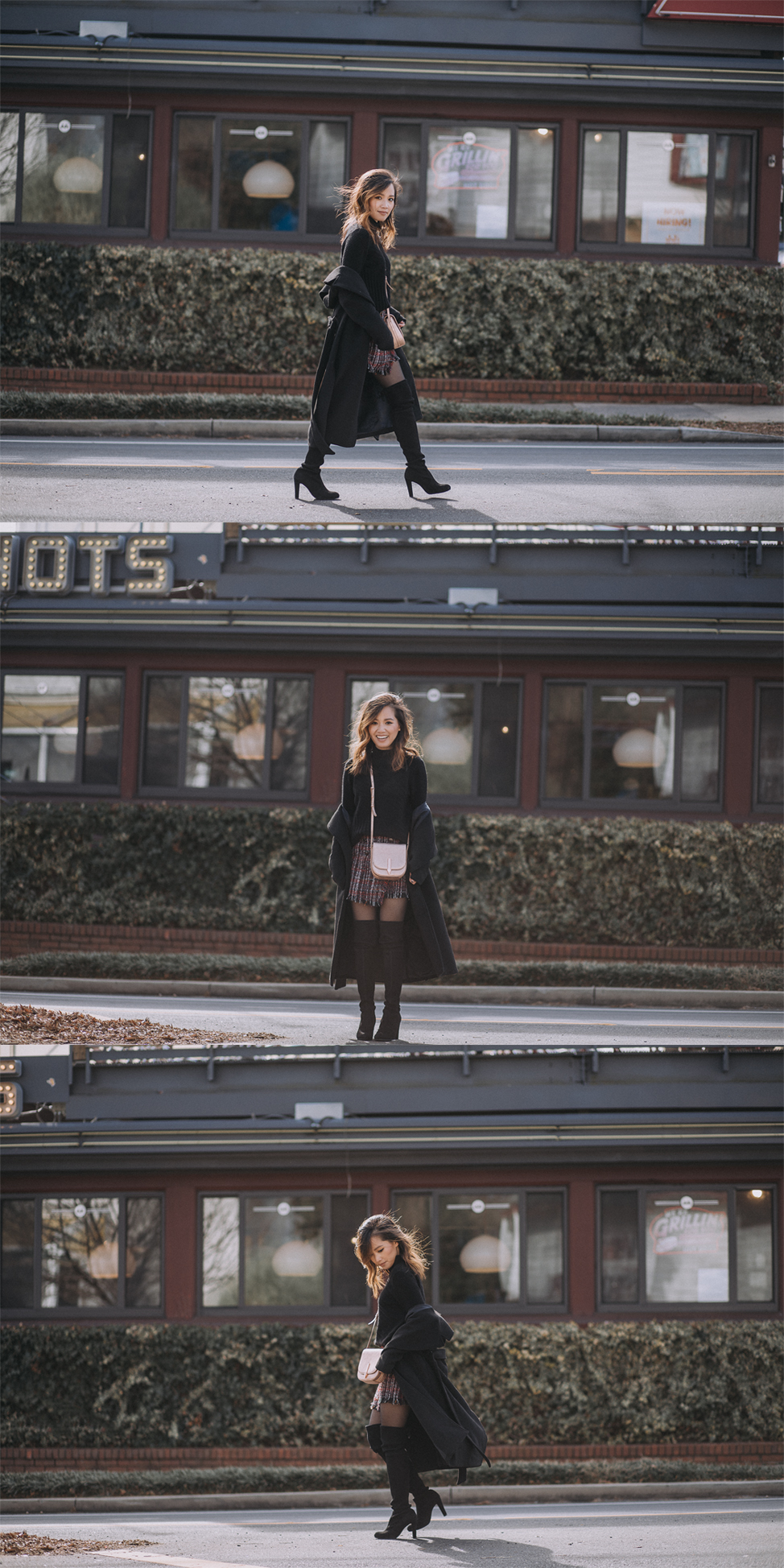 Rule #4 – Don't follow the crowd.
Blogs are burgeoning with trends but remember that NOT all need your responding to. Be intent about what you're doing – literally stop to ponder WHY. For the nth time, you learn more subconsciously than you do consciously. You could be shooting, editing, and writing in a certain way because it's so prevalent and you consume it so often. Detach yourself from the moment, and ask "HOW DO YOU STAND OUT? HOW CAN YOU PROVOKE CONVERSATION AND THOUGHT?"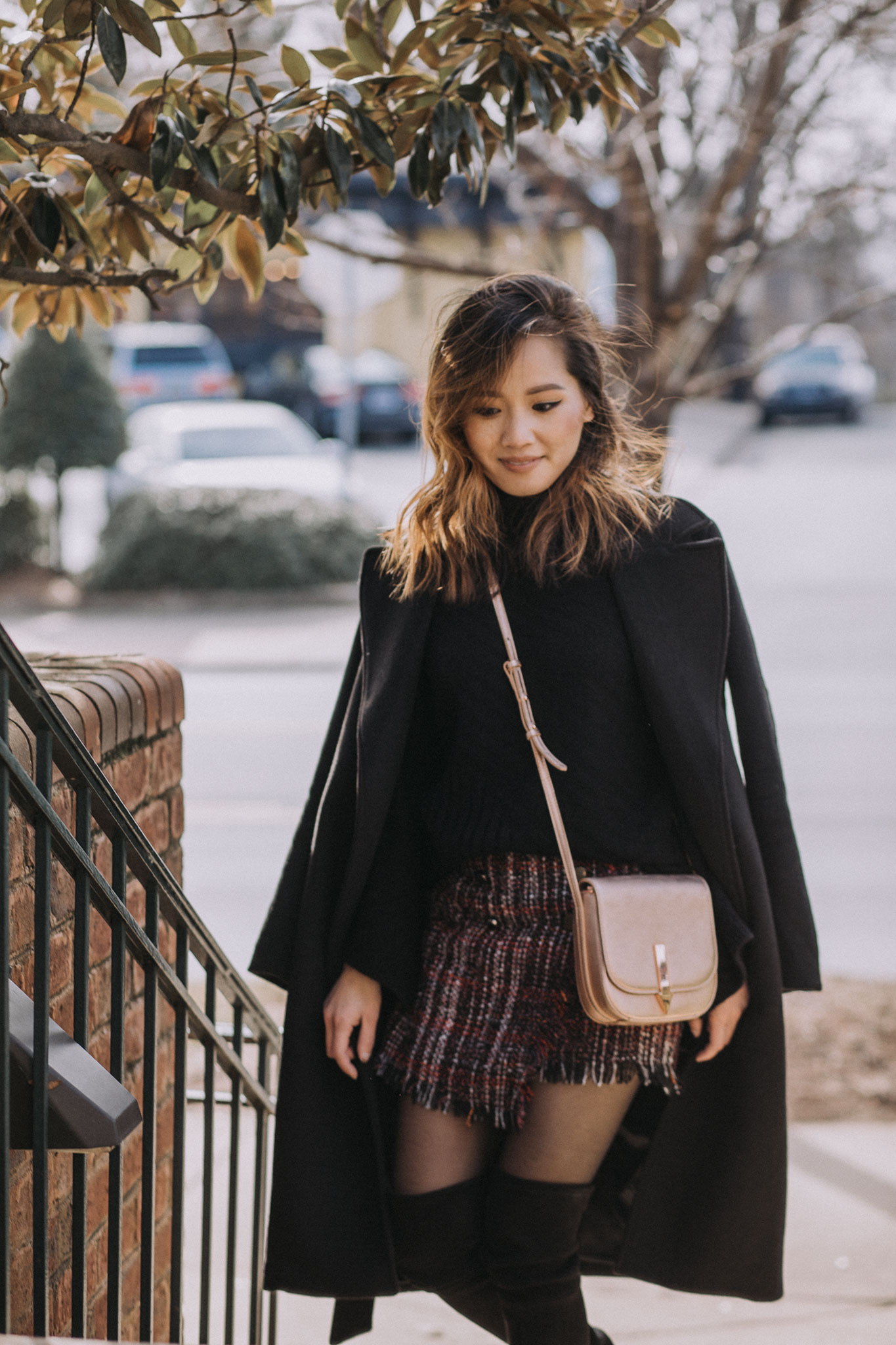 You're probably eye-rolling at the sight of my warmly tinted, grainy photos and Stuart Weitzman #OTKboots – as it's too obvious that orangesicle is at an all time high and the boots are very well yawn-inducing. In all honesty though, photos were edited this way in an effort to underscore the light, and the boots, well I waited about 5 years just to make sure I wasn't falling into blogger hype.
So, there you have it – my nonconforming guide to blogging in 2018. Would love to hear your thoughts – and what you'd like to see more in this space going forward. Thank you all so much for your gracious comments, emails, and DMs. It's truly been a heartfelt experience knowing a few people in this world find comfort in my compulsive spiels. Talk soon <3
Side Note: I also decided that I'm going to start smiling in my photos going forward because a quick 2017 reflection felt way too intense and glumly. Farewell resting bitch face. Are you feeling this vibe?

H&M Coat, TOPSHOP Sweater, BERSHKA Skirt, KAREN WALKER Bag, & STUART WEITZMAN Boots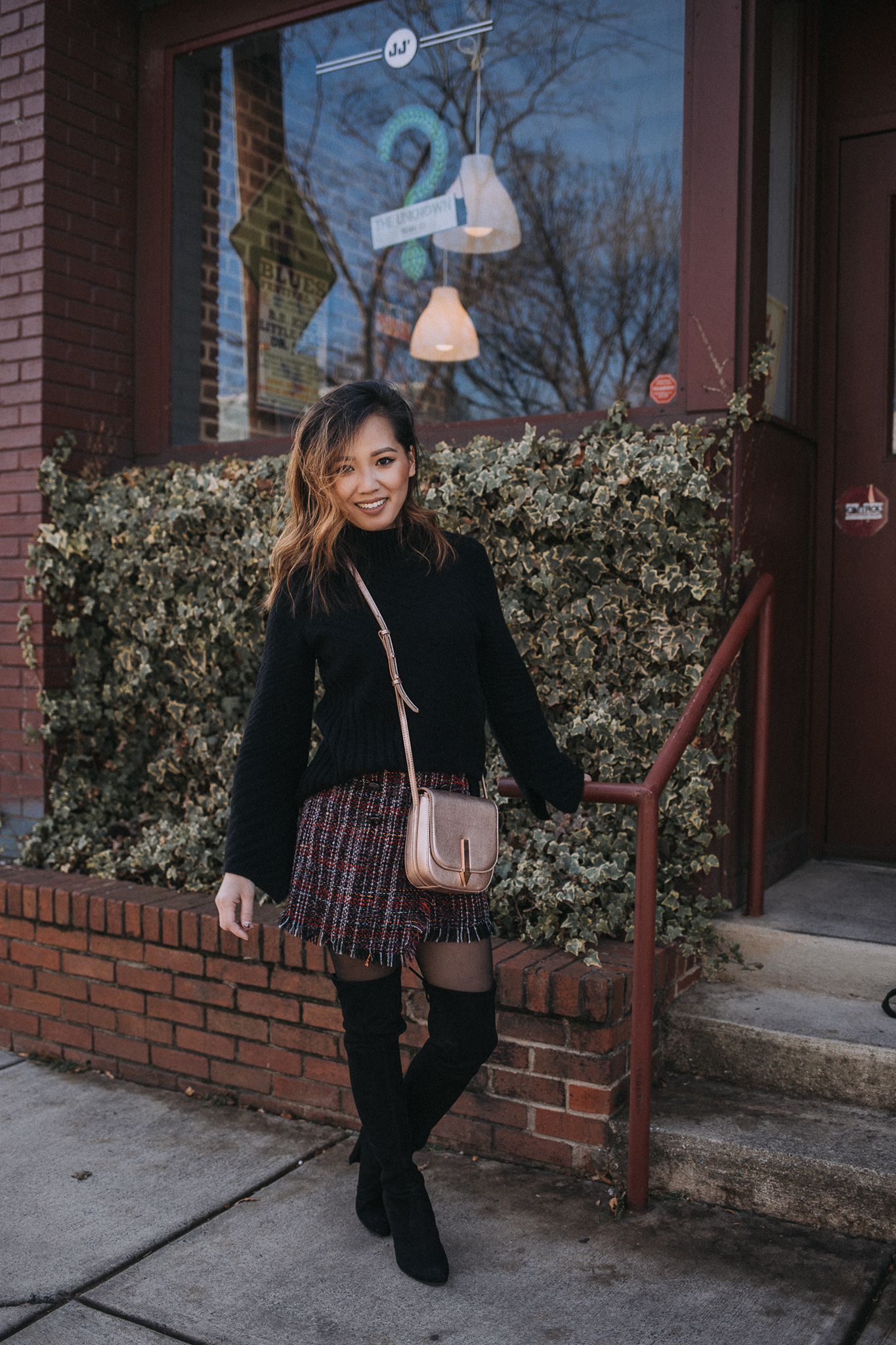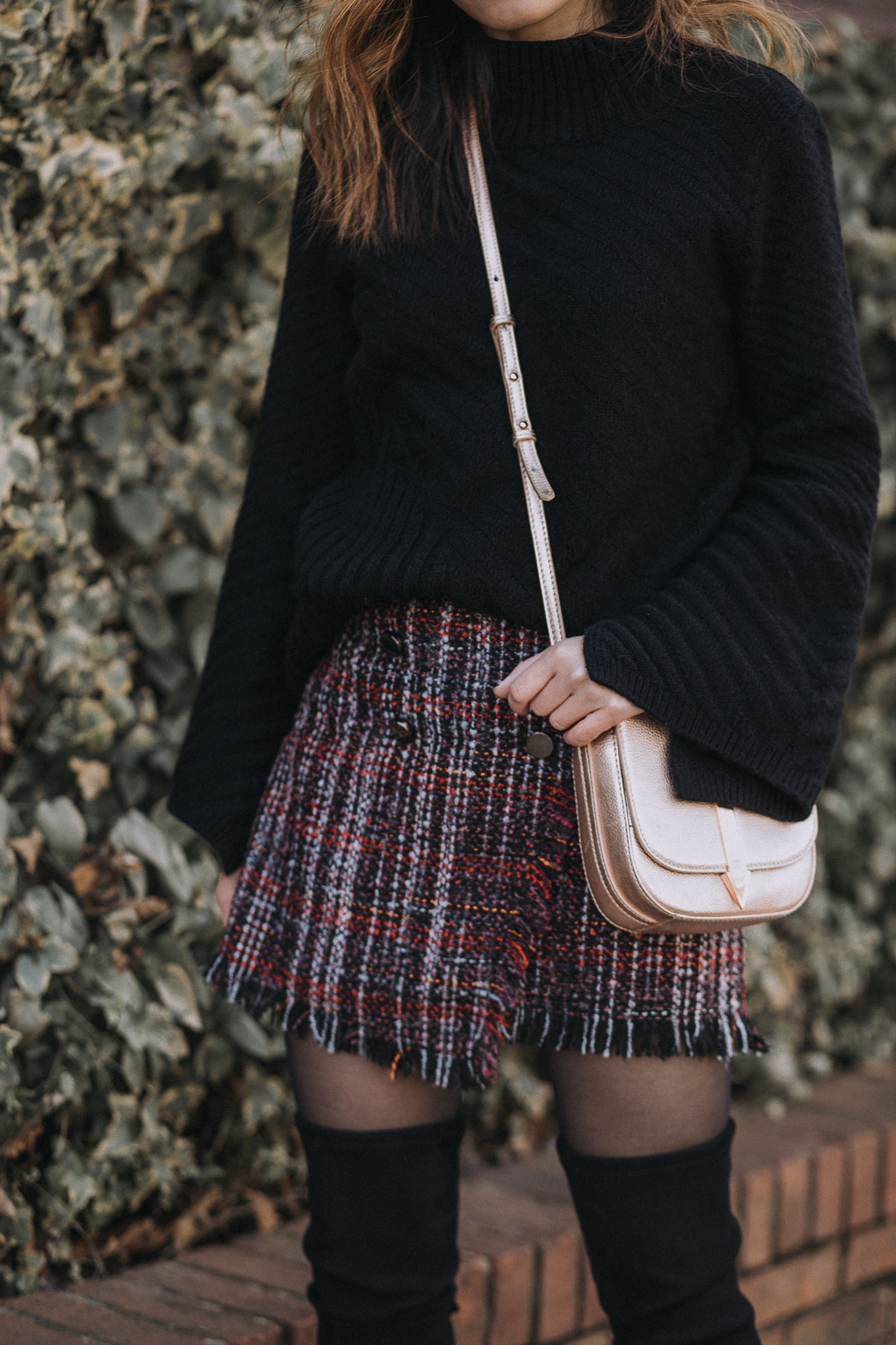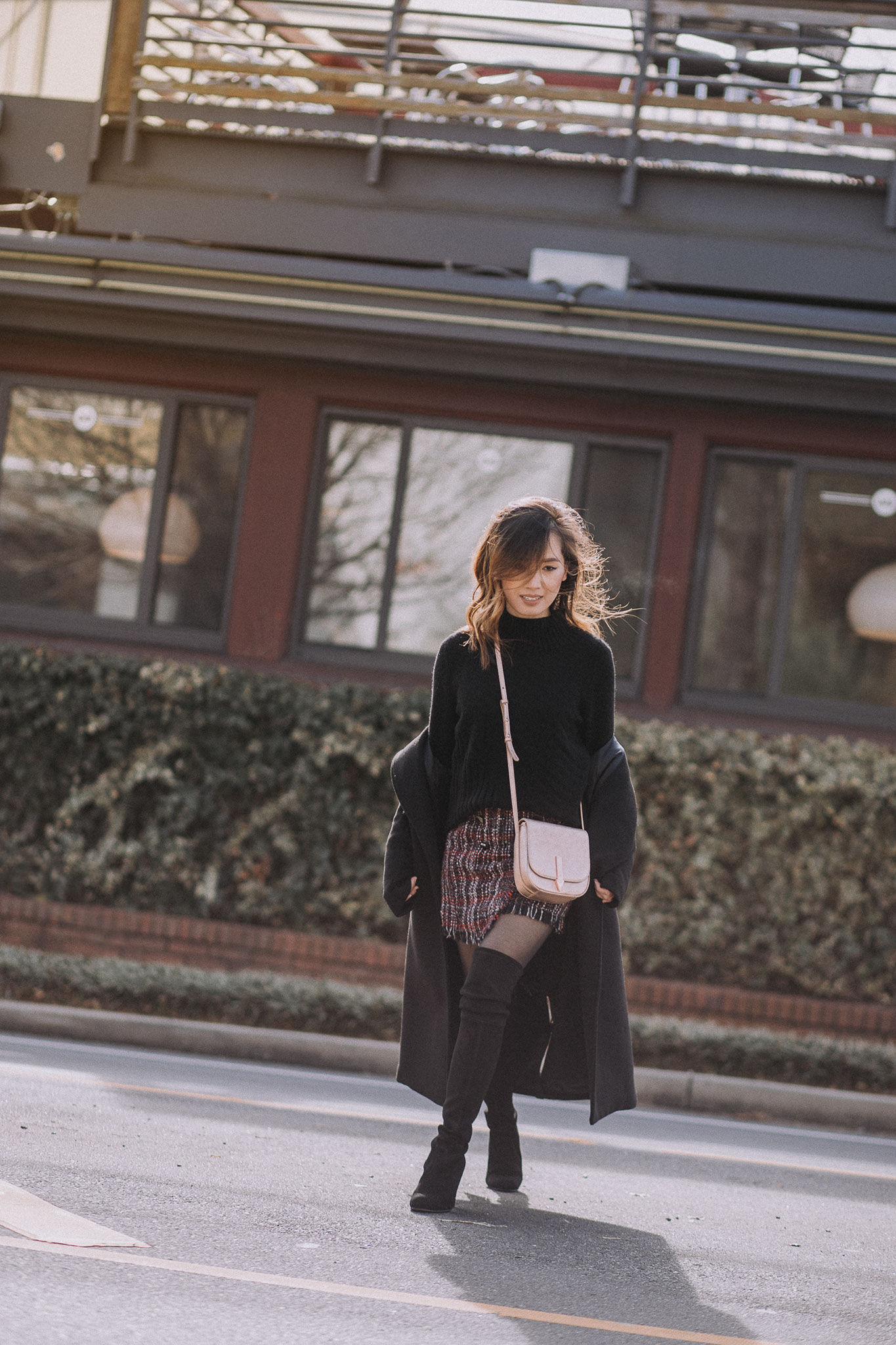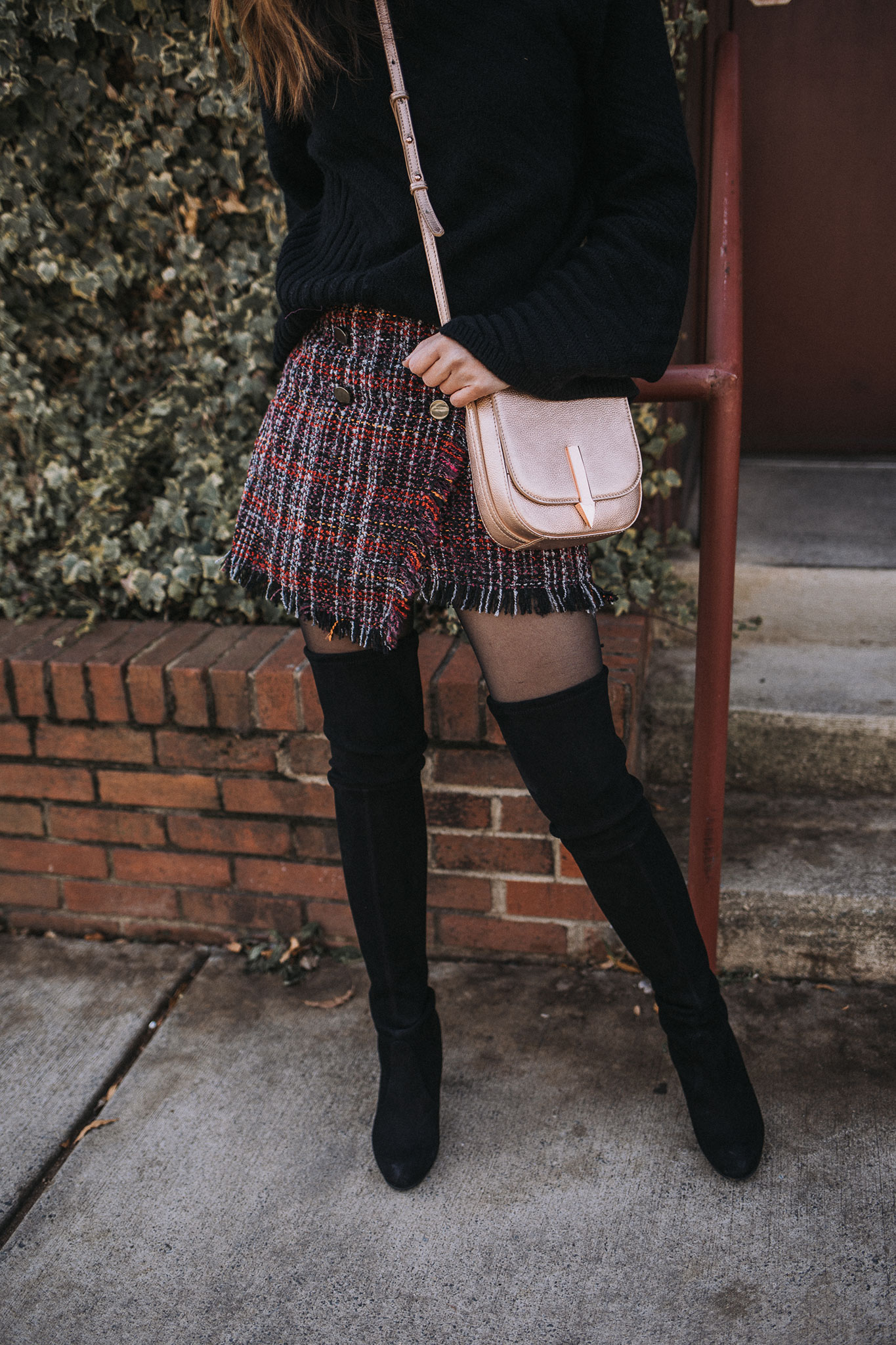 ---